Post-Operative Physiotherapy
Post-operative therapy involves a customized manual therapy and exercise program which is critical to restoring full mobility, strength, and function.
What should I expect during my rehabilitation?
Your physiotherapist will evaluate your postoperative condition by measuring mobility, strength, and pain levels, and discussing challenges in daily and work activities. Together, you'll set specific goals and milestones to customize your rehab. Through manual therapy and exercises, we aim to restore you to your favorite activities.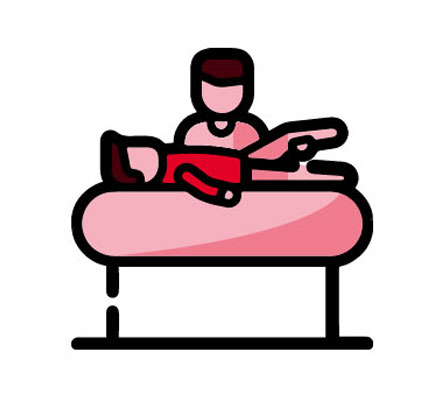 Will my physiotherapist work with my surgeon?
Yes, your physiotherapist will collaborate with your surgeon, following any post-operative guidelines provided. If no specific protocol is given, they'll design a rehab plan based on best practices. Regardless of your surgeon's location, our team ensures consistent communication for uninterrupted care.
What is pre-habilitation?
Pre-habilitation involves physiotherapy to improve mobility and strength before surgery.  Evidence has shown that pre-hab can help speed up recovery after your operation and improve your surgical outcome.  Your physiotherapist will work with you to improve your function before surgery as well as explain your rehab plan post-operatively.
When will I be able to return to working out or sports?
Your physiotherapist will guide your return to sports and workouts based on healing guidelines and your rehab progress. They will help retrain sport-specific movements and work with you on tailored exercises to restore your pre-injury condition.
What types of surgeries require

post-operatively physiotherapy?
ACL reconstruction
Knee meniscectomy
Knee arthroscopic surgery
Shoulder rotator cuff repair
Shoulder or hip labrum tear repair
Shoulder stabilization
Carpel tunnel release
Fractures (shoulder, wrist, hip, ankle)
Total knee replacement
Total hip replacement
Spinal discectomy
Spinal fusion/stabilization
Book an appointment
with us!
Rebuild physiotherapy is conveniently located in Toronto's South Financial District with PATH accessibility.
"I had a bad knee injury after flying off my bike. But was in the middle of training for a marathon. Eric helped me with knee strength building activities to help me recover nicely in time to run!"
– Elaine Yao 

"Eric identified my problem as being due to shoulder impingement…Eric was able to determine what the issue was as well as isolate the specific movements that were triggering the problem. With this knowledge, he provided me with some physio exercises to strengthen the muscles around my deltoids and alleviate the problem."
– Ice P 

"I went to Eric to relieve me from a frozen shoulder shoulder pain. Eric was quick to point out the problem after the first session and designed a treatment plan based on it. The sessions were really effective and I felt a difference in my shoulder within a week."
– Bianca P 

"I went to see Eric following a foot injury, and am extremely satisfied with the treatment I received. Right from the first session, he was able to quickly pinpoint the issue and provide me with a plan of action and exercises to address it."
– Lucas Hawath 

"I came to Eric for wrist pain that I experienced from a sport injury and his care was nothing short of amazing. Eric took the time to understand my personal recovery goals and devised a simple and easy plan for me to reach them."
– Matthew L. 

"Eric's knowledge and expertise in physiotherapy were evident from the start. He took the time to thoroughly assess my condition, asking insightful questions and actively listening to my concerns. I am very satisfied with my neck treatment. Highly recommend!"
– Edra Kalemi 

"Eric was an absolute professional. He took time to understand the issue with my shoulder and help with a recovery plan. He was very considerate in building the recovery plan with our lifestyle in mind."
– Abbhilash M. 

"I came to Eric with a torn quad from soccer and was really worried about how long it would take to rehab. Eric gave a very thorough assessment , paid great attention to detail re. my physical activities and sports. He set me up on a rehab plan that enabled me back to my activities in a relatively short time."
– Lindsey Craig 

"Eric is a true professional who cares about this patients and offers amazing treatment. Unlike many physios he is completely hands on with his clients, uses electro acupuncture and massage techniques to help alleviate pain speed up recovery."
– Aizaz Alam 

"Eric was very detailed in his process of understanding of my issue and injury before laying out a clear plan to fix it. I loved that from day one I knew how long it would take and exactly what we would be doing to fix the injury. Worked out exactly like he said it would. Definitely recommend him!"
– Muz B. 
Toronto, ON
MORE 5-STAR REVIEWS